Hespéride© offers you quality furniture that is easy to clean, light and durable.
Our selection focuses on products made of materials such as aluminium, texaline, synthetic woven resin or wood imitation composite, which guarantee a combination of elegance and lightness for the best adaptation to climatic conditions.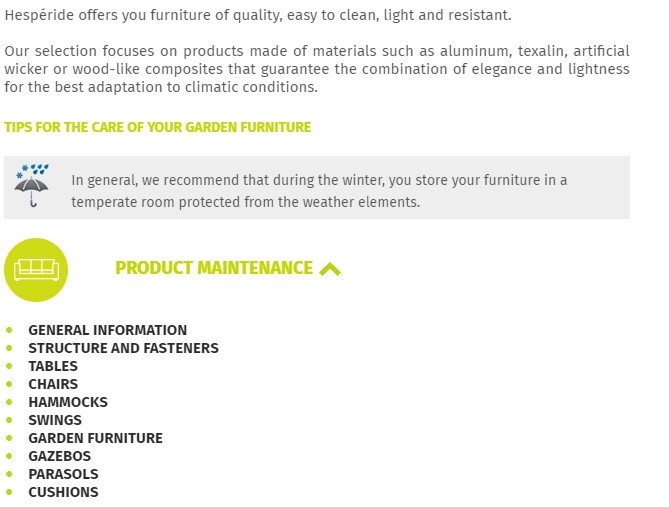 Daily maintenance :
Your product is subject to the elements and should be cleaned regularly.
Remove stains immediately.
Clean with a damp cloth soaked in warm soapy water (or hot water for heavier soiling), or with a specific,
suitable product.
Rinse thoroughly.
Finish with a clean, dry cloth.
If in doubt, consult a dealer or the product data sheet on the Hesperide.com website
Without regular cleaning, your product is bound to deteriorate.
It is normal to see natural wear and tear of the product over time and with use, in the form of changes in colour and surface finish, mechanical functions and tightening of screwed elements.
Climatic conditions (wind, rain, snow, hail, salty winds) :
The outdoor furniture is designed for use in normal outdoor weather conditions. Severe weather or exceptional weather conditions may affect the appearance, the proper use and the life of the product. It is strongly recommended to use a tarpaulin with a ventilation system during the season when the furniture is left outside.
Rain and moisture :
If left under water, the furniture will take several days to dry. There is nothing wrong with this, but be sure to wipe it down and avoid water standing on it. Prolonged dampness accelerates the ageing of the product and favours the appearance of rust or even mould.
Temperature conditions :
Outdoor furniture is not designed to withstand low temperatures, let alone winter temperatures, which can affect its function and surface condition. It is also sensitive to ambient humidity. It is therefore advisable to store it in a dry, ventilated and closed room. It is not necessary to cover it. Before storing, clean and dry the products well to prevent the appearance of unpleasant odours or mould.
If you do not have a dry, ventilated and enclosed area, a tarpaulin with a ventilation system is essential to cover furniture left outside. A protective tarpaulin reduces the impact of external aggression (damage from trees, animals, pollution, etc.) on its life span. If the floor is damp, it is advisable to insert a wedge between the floor and the legs to prevent moisture transfer. In the case of a table that is wintered outside, giving it a slight angle will also prevent the accumulation of water and dead leaves on the cover.
If left unused for a long period of time, if storage and storage recommendations are not followed, accelerated deterioration of its surface condition and functionality will result.
For detailed maintenance by product type, please see > PRODUCT CARE