Questions regarding warranty activation
I have several identical products, should I activate several warranties?
> If you have purchased several products of the same reference, on the same day, at the same place, only one warranty activation is necessary. The quantity is indicated on your proof of purchase.
I am abroad, can I benefit from the 2-year warranty?
> Yes, your Hesperide products are guaranteed for 2 years, even abroad.
I ordered on the Hesperide website, how to activate my warranty ?
> Your Hesperide warranty is automatically activated 5 days after your order is shipped.
If I buy in a store, do I have to respect a delay to activate my warranty?
> No, as long as your warranty is valid you can activate it on the Hesperide website.
My warranty starts on the date of purchase, but my product was delivered late, is this taken into account?
> Yes, the delivery time will be added to the duration of your warranty by the after sales service in case of incident.
Can I activate my warranty from a mobile or tablet?
> Yes, to do this, set your browser to mode "computer version" so that all the requested fields are displayed (see image) (1-2).

With Android :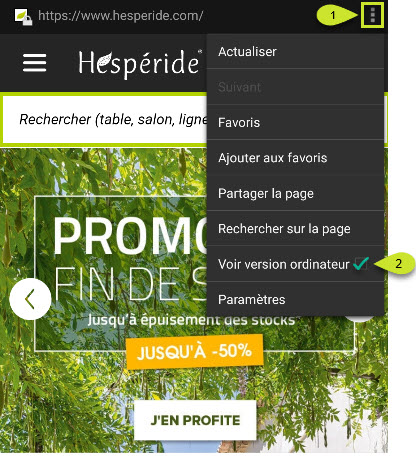 With iOS (IPhone and IPad) :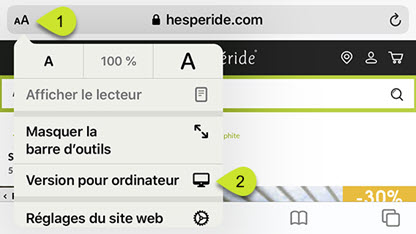 --